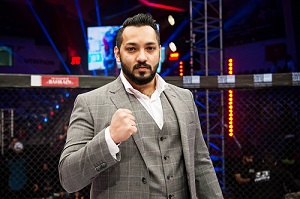 Mohammed Shahid, the president of BRAVE Combat Federation, has finally arrived in Konin, Poland as the global outfit gears up for its maiden event in the country — BRAVE CF 54— on Saturday, September 25th.
Watch real fights at Brave CF TV. 
To celebrate its fifth anniversary in the mixed martial arts industry, the Bahrain-based promotion has prepared a stacked fight card headlined by a grudge match between BRAVE CF Lightweight World Champion Amin "Fierceness" Ayoub of France and challenger Ahmed "The Butcher" Amir of Egypt.
Aside from the main event, the show also features three of the country's up-and-coming stars who will be getting a fair share of the international limelight.
Marcin "Bomba" Bandel, Wawrzyniec Bartnik and Ewelina Wozniak will be donning the national colors of crimson red and immaculate white at the historic BRAVE CF 54.
Meanwhile, Irish standout Blaine O'Driscoll is set to square off with Muhammad "The Punisher" Mokaev in the co-feature attraction.
As the countdown begins, Shahid can't help but look back at the things that his company has accomplished in Europe in the span of nine months.
"BRAVE CF has always been known as a national project with the focus to provide sports values to a nation. It's clearly seen with the government relation BRAVE CF has with the host nations," he stated.
"But at the same time the events are also a unique networking opportunity where international government officials, global business tycoons and celebrities around the world come together." 
Though it looks like BRAVE CF has attained a significant stride across the continent in 2021, it seems to be the tip of the iceberg.
Most recently, BRAVE CF announced that it will be holding a card in Russia towards the back end of this year, aiming to return to where the company has started this year.
Further details about the organization's return to Russia will be announced in the coming weeks.
 #BRAVECF had the first ever event #BRAVECF1 in the Kingdom of Bahrain.